---
Welcome to "Impressions from a different world... "
---

Welcome to our homepage! In this web-site we would like to share some of our work with you. You can find images taken from the night-sky from Chile and Germany. Our goal is to show the night-sky in different aspects, e.g star-trails, time-lapse, photos, etc.

Walk along with us and let our pictures take you to another world...




The photo to the left is very special to us. It was our first picture that we took together in Chile in March, 2013. It shows the rise of the milky-way over the Andes and the fog cover over the "Valle del Elqui".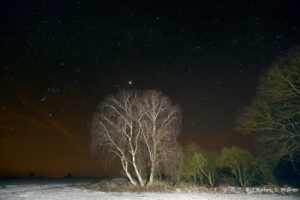 Before traveling to Chile together, we tried out our new cameras in February, 2013. The result was this picture to the right. It depicts a birch tree near Berlin, Germany, with Orion and Jupiter in a winter landscape.






The summer sky of the northern hemisphere is shown on the left. It was taken in August 2013 near Berlin, Germany. Although the sky is not perfectly clear, we found the color combination of the clouds with the rest interesting.








Our very first deep-sky image, which we are very proud of =). On the 30th of December 2013, we took 3 objects. The Pleiades, Orion (to the left) and the Andromeda galaxy. We drove out of Berlin about 50 km south west of Berlin, it was a cool night and we would sometimes jump into the car to warm up, while the camera took the series of images. Only one thing to get going is the guiding control. Then we are set for the images in our next journey to Chile =).




---
Topics to choose from
---
back to welcome page
Observatories
Touristic observatories of the 4th and 5thregion of Chile

Star-trails
Star-trails of Chile and Germany

Time-lapse
Time-lapse of the Chilean and European Night-sky

Miscellaneous
The moon, Comet Lovejoy, Star-clusters

Contact
Please feel free to leave your comment =)

Gallery
Impressions of the Chilean and European Night-sky

Deep-Sky Images
Deep-Sky Images taken with Nikon D5200

Equipment
Camera, lenses, accessory

At work
Photos of us at work

Links
Weather near La Serena, touristic and scientific observatories in Chile


Cielo Andino
|
Create Your Badge
---
Last update: 1st of January 2014

© Silvia Müllner & Thomas Kallies