---
Impressions a different world...
---
Arriving to Chile for the first time, I was struck by the clarity of its night-sky and the unique and diverse landscape it reveals.

The photo to the left was taken, looking right into the snow covered mountain range, the Andes. The image was taken during the Chilean winter time, June with the center of the milky-way rising.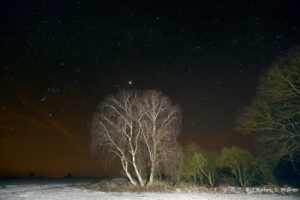 The photo to the right shows a birch-tree with orion and jupiter in the back.

Soon the fascination passed on to my partner Thomas and now we are choosing diverse objects to photograph.


Walk along with us and let the images take you to another world...


---
Topics to choose from
---
Obsevatories
Touristic observatories of the 4th and 5thregion of Chile

Startrails
Startrails of Chile and Europe

Timelapse
Timelapse of the Chilean and European Night-sky

Miscellaneous
The moon, Comet Lovejoy, Star-clusters

Contact
Please feel free to leave your comment =)

Gallery
Impressions of the Chilean and European Night-sky

Equipment
Camera, lenses, accessory

At work
Photos of us at work

Links
Weather near La Serena, touristic and cientific observatories in Chile


---
© Silvia Müllner, Thomas Kallies